Innovation has a new home.
SCREEN Americas' new HQ on Innovation Drive.
It was a mere 12 years ago when SCREEN stood the printing industry on its head with the launch of its Truepress Jet digital inkjet technology. Since then SCREEN's name has become synonymous with inkjet innovation and success.
That's why it is no coincidence SCREEN Americas' new western hemisphere headquarters is located on Innovation Drive in the Chicago metroplex!
The new facility's centerpiece — Inkjet Innovation Center — will feature the world's leading, high-speed production and label and packaging inkjet technology in a futuristic, hands-on demonstration environment where printing industry professionals can learn how their companies' future in print can be accelerated.
Also integral to SCREEN Americas' new 43,000 sq. ft. hub is a state-of-the-art parts warehouse, equipment staging and shipping area, service center, plus expanded office and meeting space with a floor-to-ceiling view of the technology. Innovation will flourish on Innovation Drive!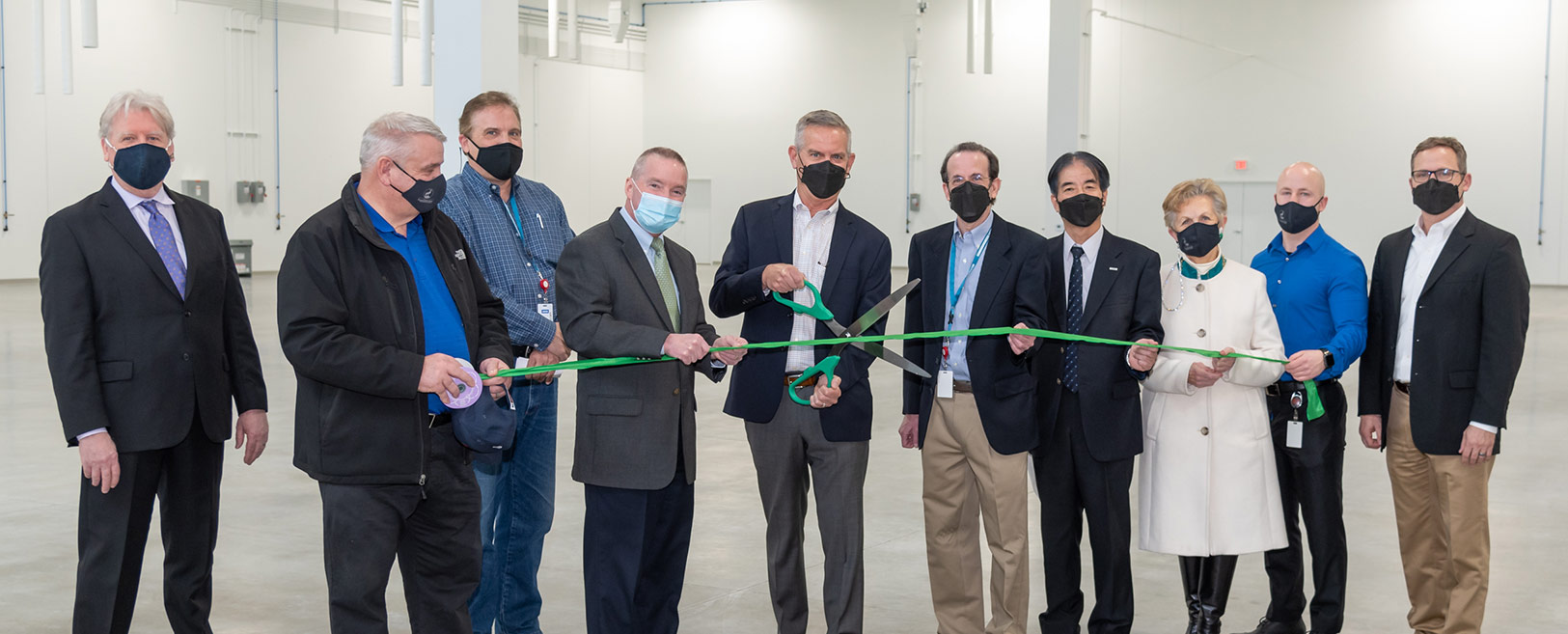 FROM THE SERVICE DESK
TRUST Guard enhances high-speed inkjet operations
SCREEN Americas is taking a proactive approach with the Trust Guard component of the Trust Network Service. The complimentary service, consisting of three components, Trust Dialog, Trust Guard and Trust Assist, is designed to improve productivity through ongoing communication, preventive maintenance and technical support.
Now, users of the Truepress Jet520HD and Truepress Jet520NX will further benefit from Trust Guard as SCREEN personnel expand their duties to include detecting specific areas where press operators can improve their performance in order to save time, money and resources.

What year was SCREEN Group founded?
Hint: A photo of the original building for Ishida Kyokuzan Printing Works is shown in the boardroom wallpaper graphic. Show Answer
Step inside your Inkjet HQ.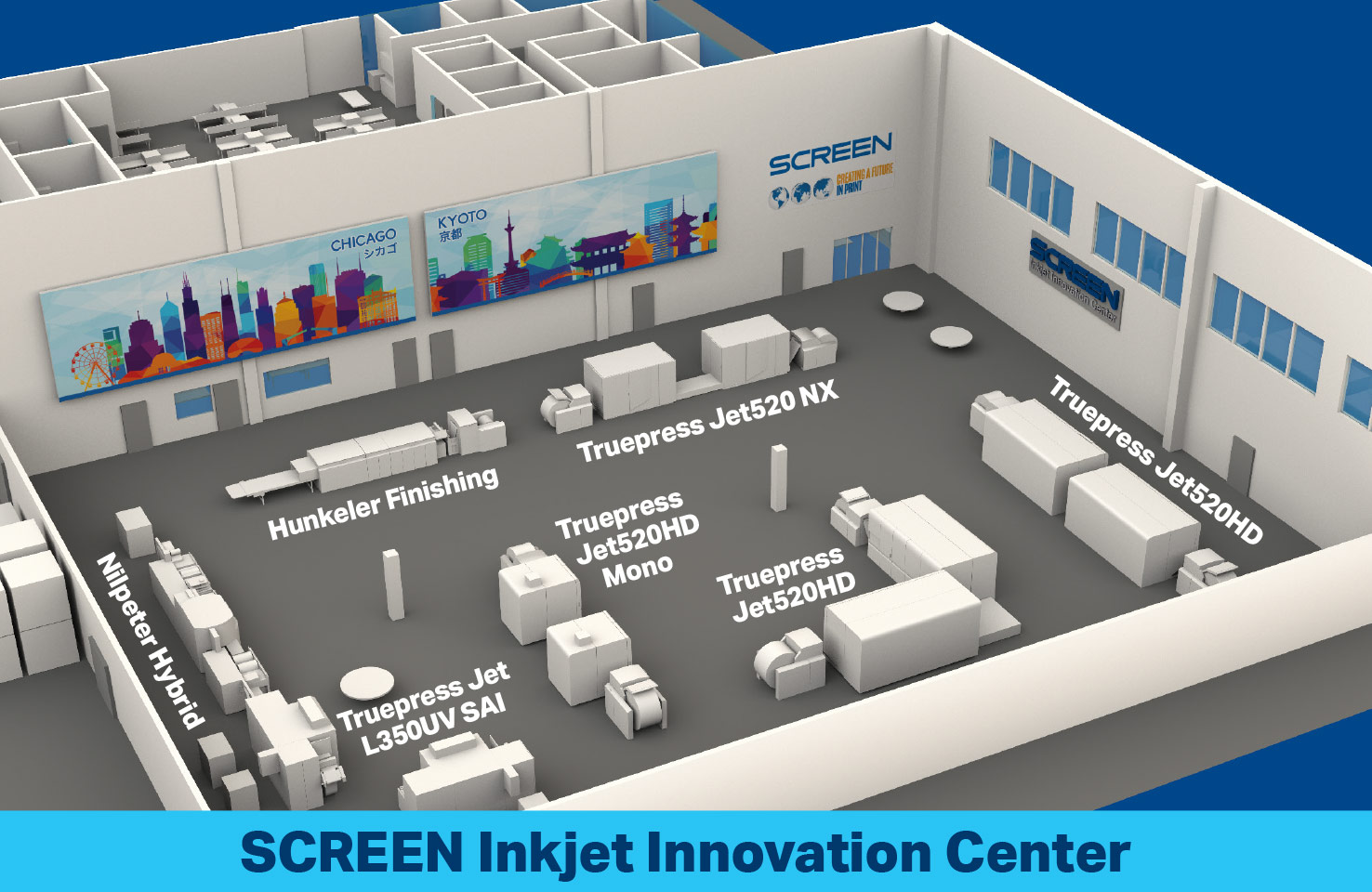 Great technology is continually innovated. From its inception in Japan as early as the nineteenth century, SCREEN Graphics Solutions Company has been the driving force behind many things we encounter in our daily lives. From the label on the bottle we drink, to the book we read, to the acceptance letter we receive from a university, SCREEN's technology fuels the opportunities and objects we come into contact with on a regular basis.
In an effort to build on this legacy of innovation, SCREEN Americas has masterfully curated a printing technology demo center like no other in the United States. Within a dedicated 14,000 sq. ft. space, technology comprised of high-speed inkjet and label and packaging solutions along with equipment from SCREEN's finishing partners, visitors to the center will be able to engage with complete printing solutions and applications from start to finish.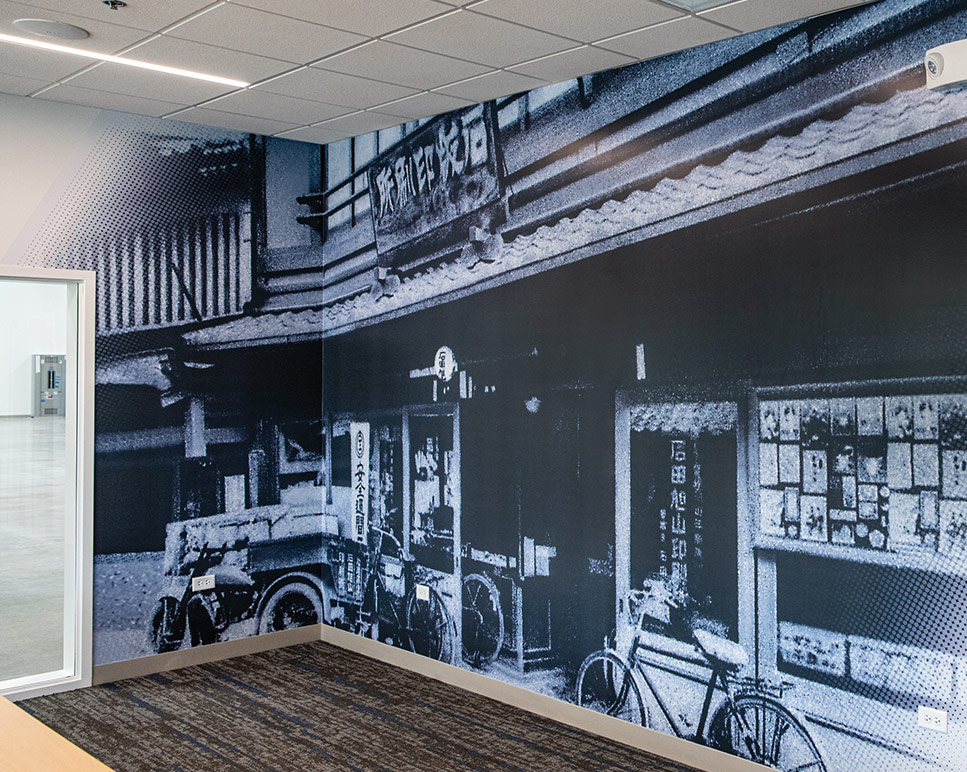 The final touches on the SCREEN Inkjet Innovation Center, as it is formally known, are underway and are being completed from the top down. Hanging from the ceiling are banners designating the market applications of the very capable equipment that will soon be buzzing with activity below – including the flagship Truepress Jet520HD series high-speed inkjet presses and the cutting-edge Truepress Jet L350UV SAI series label and packaging inkjet presses. Prominently featured on the expansive wall above the executive boardroom windows overlooking the Inkjet Innovation Center are coordinating custom 50-foot skyline graphics of Kyoto, Japan and Chicago, Illinois—homes to invention and continued innovation respectively.
Coming this fall, SCREEN Americas will host you in the Inkjet Innovation Center and its adjacent lounge for guests. We look forward to seeing you soon at our inaugural open house!
Click thumbnail for full size photo.
Inkjet
Timelines
Inkjet Summit Recap
The annual Inkjet Summit often draws curious printers with strong roots in traditional offset lithography looking to learn more about the advantages of inkjet printing. This year's summit proved to be no different.
SCREEN Americas teamed up with DNI Corporation in Austin, Texas, July 26-28 to help other offset printers embark on their inkjet journeys. It had been three years since DNI Corporation made its inkjet transition with the purchase of a Truepress Jet520S at this very summit. Since then, the transactional and direct mail printer has become a one-stop solution offering speed and superior color to its customers.